Bali Top Rated Tourist Attractions. Bali is one of the most evocative and popular tourist islands of the entire Indonesian archipelago. A visit here sparks the senses. The intoxicating fragrance of incense and clove oil hangs in the thick tropical air. Peanuts sizzle at roadside stalls, petal-strewn offerings smolder on busy sidewalks, and traditional gamelan music jangles against the buzz of mopeds.
Despite the clamor and chaos of the main tourist areas, the island is rich in natural beauty, with attractions for every kind of traveler. Surfers come for the legendary swells, hikers can trek up jungly volcanic peaks to misty waterfalls, and cyclists can bike through lush landscapes bristling with rice terraces and traditional villages.
The island's rich arts scene is another top draw, and if relaxation is your top priority, the shopping in Bali and spa treatments are fabulous — and affordable. Spirituality adds yet another layer to Bali's allure, and seeing the magnificent temples and sacred Hindu ceremonies are top things to do in Bali.
Since the famous book and film Eat, Pray, Love spotlighted this enchanting island, the tourist throngs have undeniably swelled, but you can still experience old Bali if you stray off the beaten track. Find the best places to visit and some of the island's hidden gems with our list of Bali Top Rated Tourist Attractions.
1. Tanah Lot Temple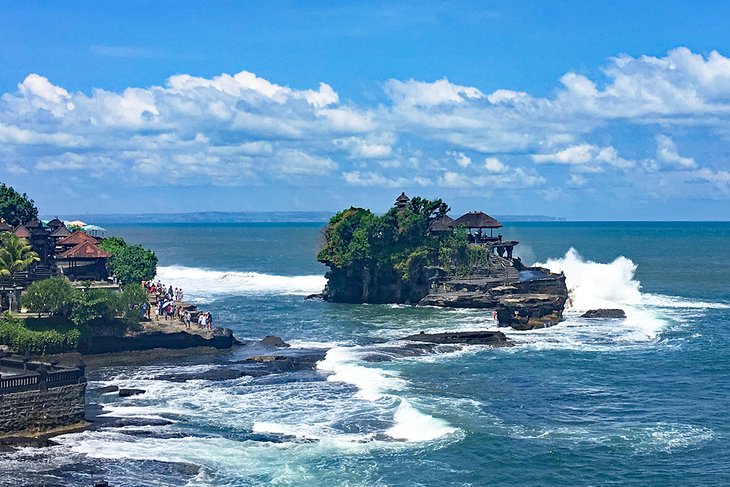 About 20 kilometers northwest of Kuta, Pura Tanah Lot ("Pura" means temple in Balinese) is one of Bali's most iconic temples. Its spectacular seaside setting, on a rocky islet surrounded by crashing waves wows all who visit.
For the Balinese people, it is one of the most sacred of all the island's sea temples. (The largest and holiest Hindu temple in Bali is Pura Besakih, but recently local hagglers have been harassing visitors.) Every evening, throngs of tourists from Kuta, Legian, and Sanur find their way through a labyrinth of lanes lined by souvenir sellers to watch the sun setting behind the temple.
Pura Tanah Lot was built at the beginning of the 16th century and is thought to be inspired by the priest Nirartha, who asked local fishermen to build a temple here after spending the night on the rock outcrop.
Although foreigners can't enter any of the temples, you can walk across to the main temple at low tide, and it's fun to wander along the paths taking photos and soaking up the magnificent setting.
After viewing the various temples and shrines, save time to relax at one of the clifftop restaurants and cafés here and sample the famous Kopi luwak (civet coffee). In some of the cafés, friendly civets snooze on the tables, offering fun Instagram-worthy photo ops.
From Tanah Lot, you can stroll along tropically landscaped pathways to beautiful Batu Bolong, another sea temple perched on a rock outcrop with an eroded causeway connecting it to the shore.
When visiting any temples in Bali, be sure to dress respectfully, and wear a sarong and sash.
2. Mount Batur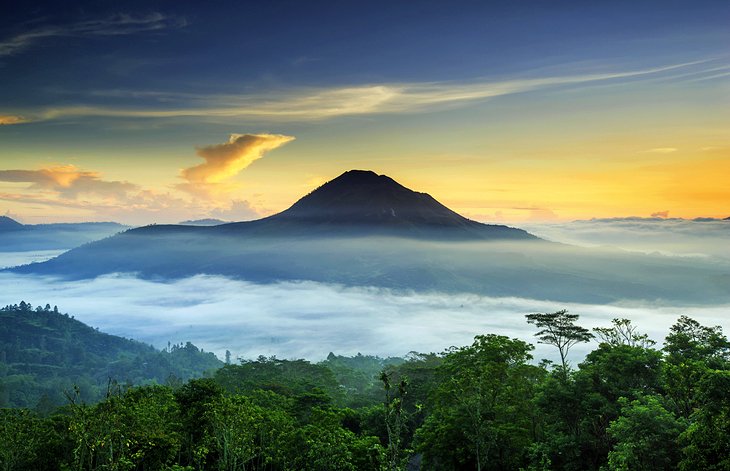 Every day in Bali's predawn darkness, hundreds of visitors begin the trek up the 1,700-meter summit of Mount Batur to watch the sun rise above the lush mosaic of mist-shrouded mountains and the caldera far below.
This sacred active volcano lies in Kintamani District in Bali's central highlands, about an hour's drive from Ubud, and the trek to the summit to watch the sunrise has long graced the list of top things to do in Bali.
The hike, along well-marked trails, is relatively easy and usually takes about two to three hours. Guided treks typically include a picnic breakfast, with eggs cooked by the steam from the active volcano. On a clear day, the views are spectacular, stretching all the way across the Batur caldera; the surrounding mountain range; and beautiful Lake Batur, the island's main source of irrigation water.
Sturdy hiking shoes are essential, and it's advisable to wear layers, as the temperature can be cool before sunrise.
You can also combine a trip here with a visit to one of Bali's most important temples, Pura Ulun Danu Batur, on the lake's northwest shore, and a therapeutic soak in hot springs at the beautiful village of Toya Bungkah on the banks of Lake Batur.
3. Uluwatu Temple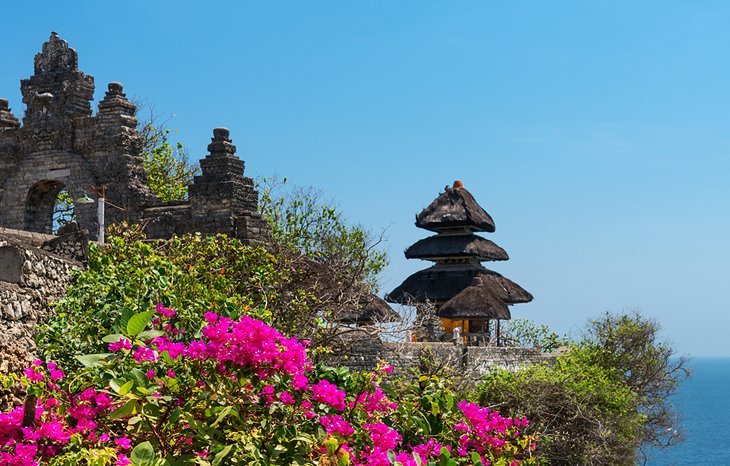 Presiding over plunging sea cliffs above one of Bali's best surf spots, Uluwatu Temple (Pura Luhur Uluwatu) is one of the island's most famous temples, thanks to its magnificent clifftop setting.
In Balinese, "Ulu" means "tip" or "land's end" and "Watu" means rock, a fitting name for the location of the temple on the Bukit Peninsula, along the island's southwestern tip. Like Pura Tanah Lot, sunset is the best time to visit, when the sky and sea glow in the late afternoon light.
Archaeological finds here suggest the temple to be of megalithic origin, dating from around the 10th century. The temple is believed to protect Bali from evil sea spirits, while the monkeys who dwell in the forest near its entrance are thought to guard the temple from bad influences (keep your belongings securely stashed away from their nimble fingers).
A scenic pathway snakes from the entrance to the temple with breathtaking viewpoints along the way. Only Hindu worshippers are allowed to enter the temple, but the beautiful setting and the sunset Kecak dance performances that take place here daily are more than worth the visit.
The temple lies about 25 kilometers from Kuta.
4. Ubud Monkey Forest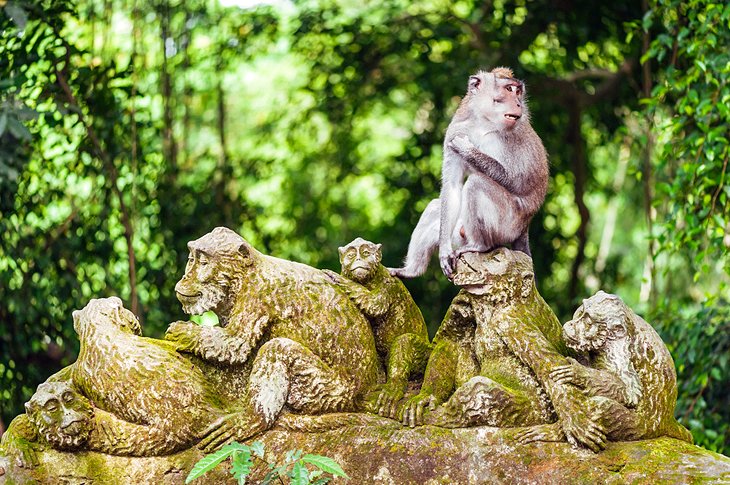 Only 10 minutes' walk south of the town center in Ubud, Bali, the Monkey Forest, also known as the Sacred Monkey Forest Sanctuary, is one of the top things to do in Ubud. It's also one of the best places to visit in Bali if you're an animal lover or photographer.
Besides the entertaining troops of grey long-tailed macaques that make their home here, a large part of the appeal is the evocative jungle setting where the monkeys roam free. Paved pathways lead through thick forests of giant banyan and nutmeg trees, where moss-covered statues and ancient temples loom through the dense foliage, imparting an almost mystical feel.
The forest is intended to represent the harmonious coexistence between humans and animals. It also conserves rare plants and is used as a location for researching macaque behavior, particularly their social interaction.
On the southwest side of the forest is one of the three temples found here, the 14th-century Pura Dalem Agung Padangtegal, where hundreds of monkeys swing through the trees and clamber over the walls.
In the northwest of the forest, an ancient bathing temple, Pura Beji, nestles next to a cool stream and makes a beautiful backdrop for watching the monkeys' antics.
While visiting the forest, make sure to secure your belongings and avoid direct eye contact with the animals (and smiling), as this can be interpreted as a sign of aggression. It's also a good idea not to bring any food into the area.
Address: Jalan Monkey Forest, Padangtegal, Ubud, Gianyar, Bali
Official site: http://monkeyforestubud.com/
5. Ubud Art & Culture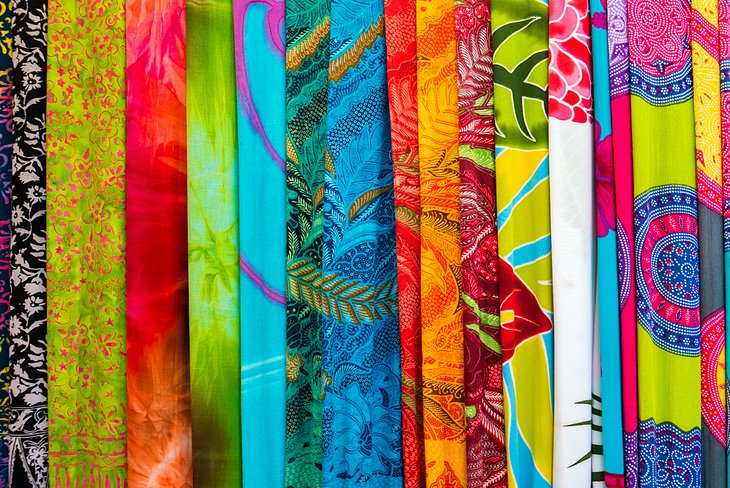 Made famous by the book and movie Eat, Pray, Love, Ubud is also the epicenter of Balinese art and culture. This is where the modern Balinese art movement was born, with the surrounding royal palaces and temples acting as the main patrons.
Today, several excellent local museums and galleries celebrate its evolution and traditions. Art gazing is particularly rewarding here, as many collections are housed in traditional Balinese buildings surrounded by serene tropical gardens.
For an overview of Balinese art, your first stops should be Agung Rai Museum of Art (ARMA) and the Neka Art Museum, which lie within a short stroll of the Ubud Monkey Forest. Collections at both include works ranging from traditional to contemporary, including kris (ceremonial daggers), photography, and classical wayang (puppet-figure) paintings.
Other art galleries and museums in the Ubud area that might be of interest to art lovers include Setia Darma House of Masks & Puppets featuring ceremonial masks from Asia and beyond; Museum Puri Lukisan, spanning a range of Balinese artistic styles; and the Don Antonio Blanco Museum, at the artist's former home and studio.
If shopping for art is more your style, don't miss the Ubud Art Market. This labyrinth of stalls brims with carvings, sculptures, jewelry, sarongs, paintings, and homewares and is one of the top tourist attractions in town. Bargaining is essential, and a good rule of thumb is to counter with half the asking price and barter upwards from there, always with a smile.
Opposite the market, the Puri Saren Royal Ubud Palace is also worth a visit. Attending a traditional Balinese dance performance during the evening here is one of the top things to do in Bali at night — especially for families.
If you're a budding artist or have children in tow, you can sign up for an art workshop at a local village, which can include traditional painting, mask-making, and jewelry making. This is one of the popular things to do in Bali with kids.
6. Tegallalang and Jatiluwih Rice Terraces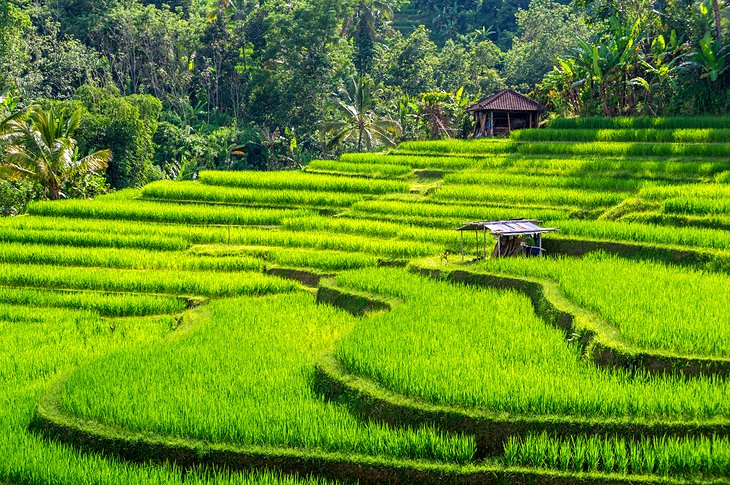 If you're a photographer seeking to capture Bali's beautiful emerald-hued rice fields, the Tegallalang or Jatiluwih rice terraces should be at the top of your sightseeing agenda.
About a 30-minute drive north of Ubud, Tegallalang Rice Terraces are one of the most famous areas to photograph these iconic landscapes and absorb their timeless beauty. Be aware that locals ask for donations along the most popular trail through the rice fields here, and many request fees for entrance and parking along the road. A relaxing way to enjoy the lush landscapes is at one of the many restaurants and cafés overlooking the fields.
About a 90-minute drive from Ubud, the Jatiluwih rice terraces cover more than 600 hectares of rice fields along the hillsides of the Batukaru mountain range and tend to be less crowded than Tegallalang. You'll also find fewer tourist touts here, so it's easier to walk around and explore without being hassled.
Both of these locations use the traditional water management cooperative called "subak," a UNESCO-recognized irrigation system that dates to the 9th century.
7. Ulun Danu Bratan Temple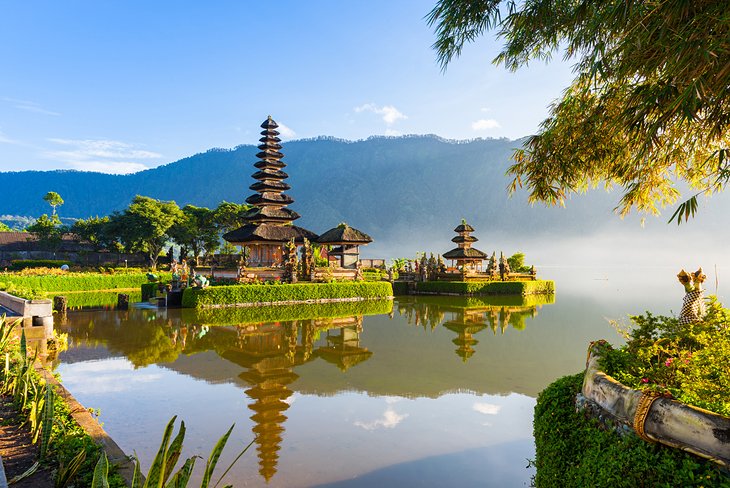 On a small island along the western shore of Lake Bratan, in the cool highlands of central Bali, the 17th-century Pura Ulun Danu Bratan is one of Bali's most picturesque temple complexes. Set against the imposing backdrop of Gunung Bratan, the thatched temples reflect on the lake, and when the water levels rise, they seem to float on its surface.
Lake Bratan is one of Bali's main sources of irrigation and drinking water, and the temple complex is dedicated to Dewi Danu, goddess of the sea and lakes.
An unusual feature is the Buddhist stupa on the left of the entrance to the first courtyard, with figures of Buddha meditating in the lotus position in niches on the square base. The stupa reflects the adoption of Buddhist beliefs by Balinese Hindus.
This sacred Hindu temple complex is best seen in the soft morning light, before the tourist buses arrive, when cool mist sometimes cloaks the lake and the mountains beyond. You can also hire a canoe and paddle out on the lake to explore the meru (thatched shrines) at close range.
Not far from the temple complex, the Bali Botanic Garden (Kebun Raya Bali) is also worth a visit, with its beautiful bamboo forests, begonias, orchid collection, and medicinal plants. Within its grounds, the Bali Treetop Adventure Park is fun for kids, with ziplines, Tarzan swings, and suspension bridges.
Address: Jalan Bedugul – Singaraja, Candikuning, Baturiti, Kabupaten Tabanan
8. Seminyak Shopping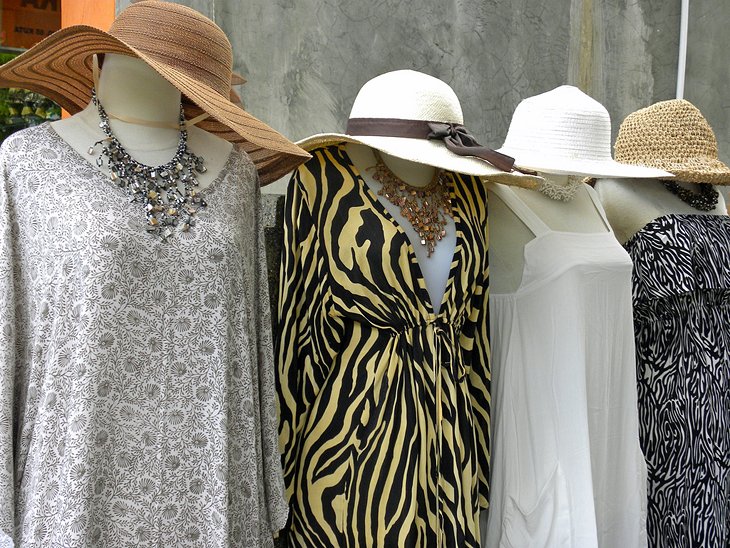 Bali is known for its flamboyant designers and fabulous shopping, and you'll find the best examples of Balinese design along the busy streets of Seminyak. Cutting-edge designer fashion, surf and swimwear, jewelry, furniture, and homewares are just some of the items you can buy at the chic shops and busy market stalls here.
Top boutiques include Biasa, Magali Pascal, and Bamboo Blonde, while Kody & Ko sells colorful, quirky art and homeware. Sea Gypsy is a favorite for jewelry, and Drifter Surf Shop & Cafe offers a collection of surf and skateboard gear.
The two main shopping malls are Seminyak Square and Seminyak Village, but you'll probably find better deals in the smaller shops lining the streets. If you're really seeking a bargain, head to the Seminyak Flea Markets near Seminyak Square, where you'll find stalls crammed with clothing, jewelry, carvings, and handicrafts.
Seminyak is also home to some of Bali's best restaurants and art galleries.
9. Nusa Dua Beach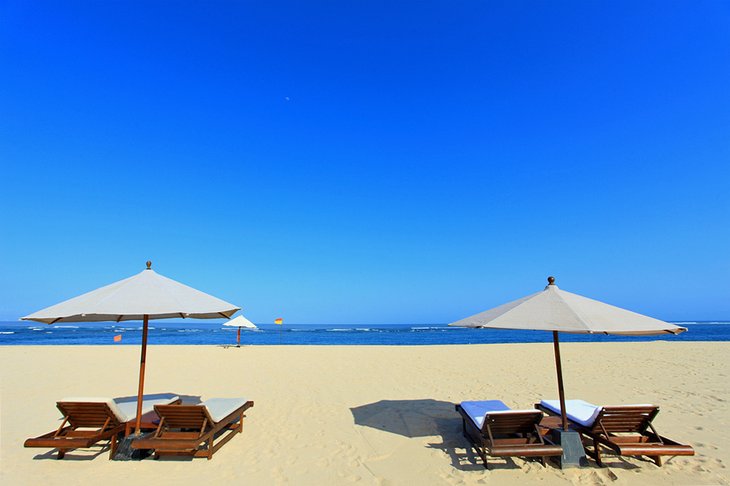 Want an escape from Bali's urban buzz? Nusa Dua Beach is your answer. Here, you can recline on a comfortable sun lounger, cool drink in hand, and listen to the gentle slosh of surf on silky, white sands. You won't get that cultural hit you'll find elsewhere in Bali — this is a gated resort area on its own private peninsula after all, but if it's peace and relatively pristine sands you seek, you'll find it here, at one of Bali's best beaches.
Some of Bali's best luxury beach resorts preside over this sweeping stretch of shore, and resort staff work hard to keep the sand clean and clear of trash. Popular things to do include strolling for miles along the shore, swimming, surfing, parasailing, and sunbathing, but you might need to pay a fee or eat at one of the resorts to use their sun loungers.
When you tire of the beach, you can sign up for some pampering at a posh resort spa or browse the chic shops at Bali Collection, an open-air shopping mall. A paved promenade skirts the shore for off-sand strolling between the resorts and attractions.
10. The Nusa Islands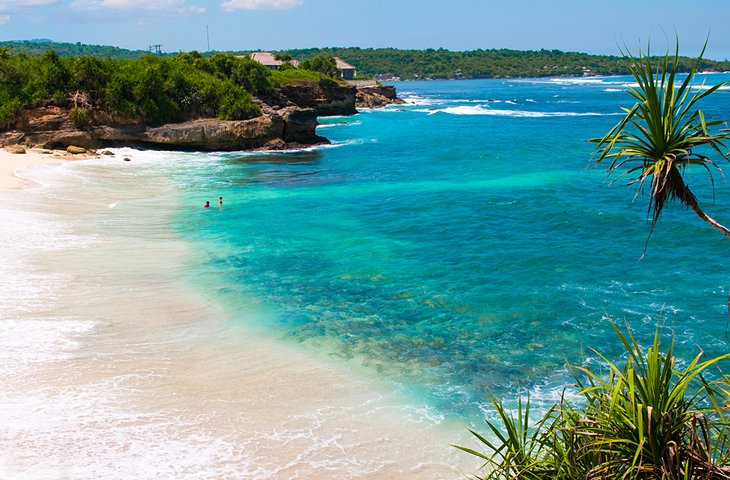 If you're craving a slower-paced Bali, without the crowds, traffic, and tourist touts, the Nusa Islands are where you'll find it.
The most popular of the three islands is Nusa Lembongan, about 20 kilometers offshore from Sanur and easily accessible by speedboat. Surfing, snorkeling, diving, kayaking, and stand up paddleboarding are the main activities here, and the top attractions include beautiful Dream Beach; Mushroom Bay; and the Devil's Tears rock outcrop, with views of crashing surf erupting over the rocks. Many locals still make their living from seaweed farming, and you can watch them harvesting it by the shore.
The neighboring island, Nusa Ceningan, lies just over a bridge from Nusa Lembongan, with a beautiful blue lagoon.
The largest of the island trio, Nusa Penida, is a quick boat ride away. Rock formations, caves, and a bird sanctuary are Nusa Penida's top draws, and diving is one of the most popular things to do here, with the chance to see manta rays, sunfish, and turtles. Don't miss the steep hike down to Kelinking Beach, also known as T-Rex Bay, to bask on your own slice of golden sand backed by soaring sea cliffs — it's one of the top beaches in Asia.
Accommodation on the islands ranges from rustic huts to luxury villas.
11. Kuta Beach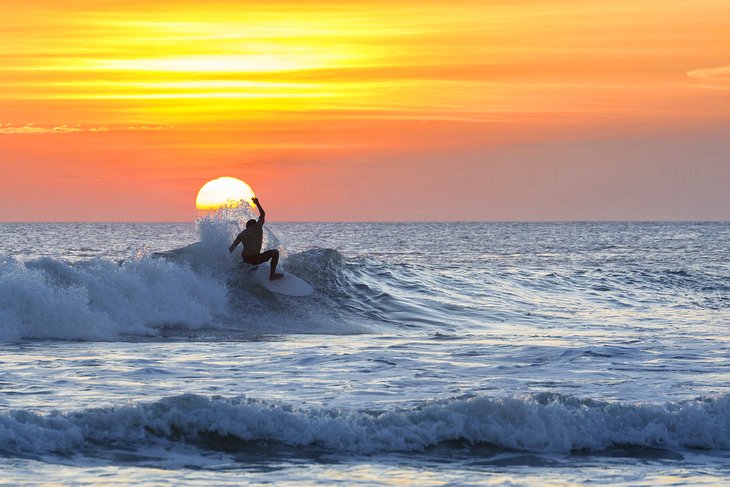 Yes, it's crowded and persistent hawkers stalk the beach, but this famous stretch of sand, along with neighboring Legian and Seminyak Beaches just to the north, is one of the most happening places in Bali. You'll have a fun day out here — especially if you're a beginner surfer or you just want to soak up the scene.
You can book surf lessons and rent surfboards, boogie boards, sun loungers, and umbrellas directly from vendors set up on the sand, and plenty of cafés and restaurants border the beach. Beach vendors are easily dissuaded with a polite "no thank you," but an icy cold coconut sloshing with juice served directly to your sun lounger can be a blessing on a sultry day.
For a more peaceful slice of coast on the island, head to the soft sands of Sanur, Jimbaran Beach, or Nusa Dua (Geger Beach here has public access).
Surfers should check out Dreamland, Canggu, Balangan, Bingin, Padang-Padang, or the cliff-fringed hidden coves of Uluwatu.
12. The Sidemen Valley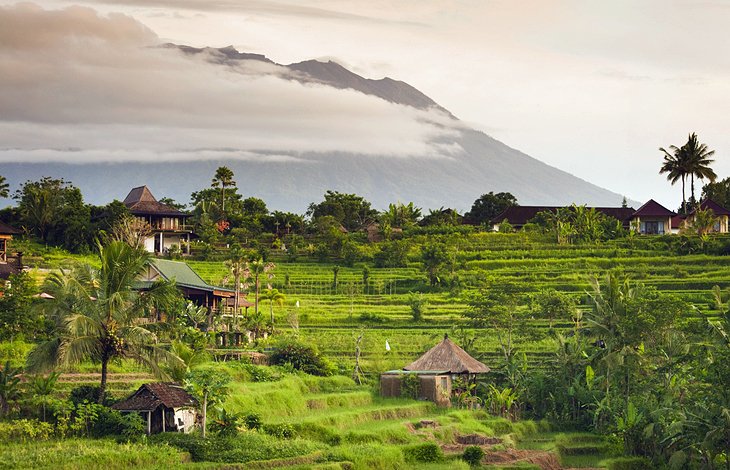 About 90 minutes' drive northeast of Ubud, the emerald-hued Sidemen Valley evokes the feel of Old Bali, before the tourist throngs descended on the island. Sleepy villages snuggle in the valley amid cascading rice terraces, and cloud-capped Mount Agung looms in the background like a benevolent sentry.
A highlight of a visit here is strolling around the small villages, surrounded by farmland and rice paddies, where the locals still tend to their traditional activities. You can also hike through the countryside to the summit of Mount Agung or trek through the rice fields and lush countryside past cocoa and coffee plantations.
Other popular things to do here include rafting the rivers; yoga retreats; and taking part in cultural activities such as dancing, carving, or traditional weaving.
Homestays and B&Bs are particularly popular in this area, but you'll also find some luxury villas overlooking the rice fields.
13. Sekumpul Waterfall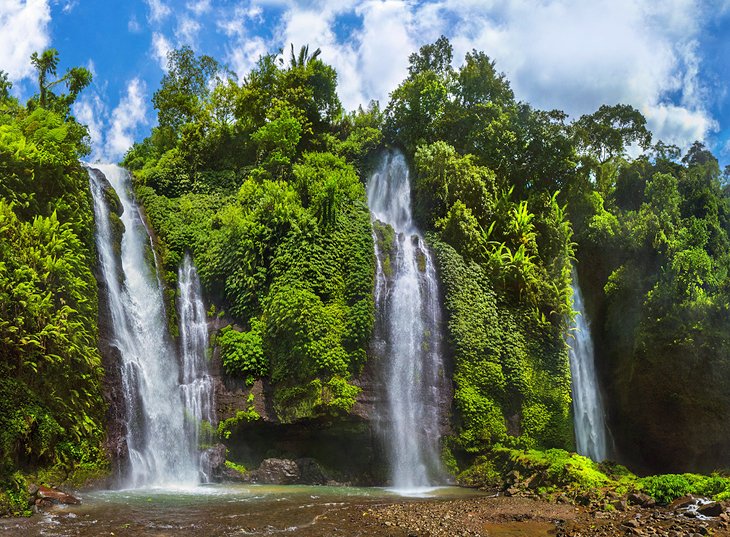 In the Singaraja region, about 66 kilometers north of Ubud, Sekumpul Waterfall is considered by many to be Bali's most beautiful falls. The waterfall is actually a series of about seven falls, cascading like long misty veils over the lip of a lush, jungle-clad cliff.
Note that if you choose to drive yourself here, locals might try and stop you well before the entrance, demanding exorbitant entrance and parking fees. It's a good idea to hire a local guide who knows how to negotiate these roadblocks and access the correct trailhead to the falls.
The three- to four-hour round-trip trek passes by rice terraces and local villages rimmed with rambutan and durian trees, and continues through dense tropical jungle. It can be strenuous in parts, as you need to hike down slippery steps and slosh through a river, but once you arrive, you can cool off with a refreshing swim at the base of the falls.
This is a great adventure for nature lovers who want a taste of wild Bali far from the touristy resorts.
14. Tirta Empul Temple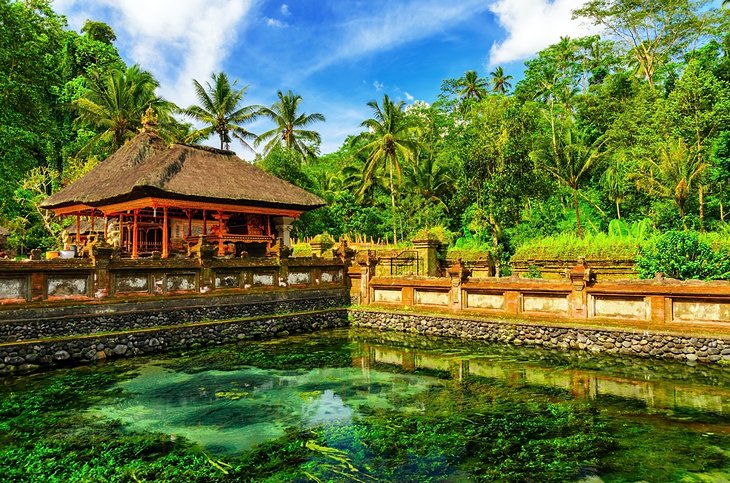 Dating from around AD 960, Tirta Empul Temple (Pura Tirta Empul) in the lush tropical forest of Central Bali, offers a glimpse into a sacred purification ritual.
This important temple complex, a national cultural heritage site, is divided into three courtyards. The focal point is the large, rectangular pool, fed by a holy mountain spring, where locals come to pray and soak in the healing waters that gush from a series of sculpted spouts.
If you wish to join the locals in the cleansing ritual, it's best to ask an experienced guide first to make sure you respect the customs. You must enter the water fully clothed, wearing a sarong and sash, and it's best to explore the temple complex first, as you are not allowed to drip water in the courtyards.
15. Waterbom Bali
To avoid the tourist buses, early morning and late afternoon are the best times to visit the temple.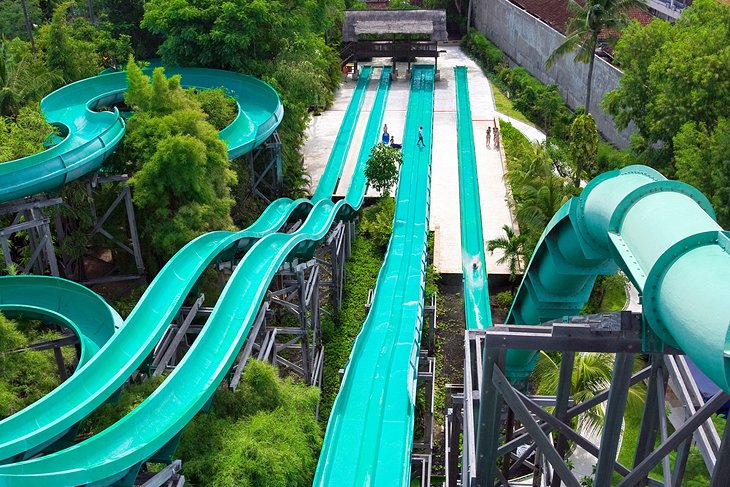 Waterbom Bali is an action-packed water park, in the heart of Kuta, with something for every member of the family. Kids can splash in the swimming pools; drift down the Lazy River; or zoom down one of the many twisting water slides and rides, with names like the Python, Green Viper, and Super Bowl.
Moms and dads can relax with a reflexology session, manicure or pedicure, or fish spa therapy. Restaurants and cafés cater to a range of different diets, and the grounds are landscaped with large, shady trees and beautiful tropical gardens, making this a refreshing respite from the heat on a hot tropical day.
Ever wanted to try wakeboarding, waterskiing, kneeboarding, or skurfing (a cross between surfing and waterskiing) in a relatively safe environment? Bali Wake Park is the place to visit for this and more exhilarating water park fun. Kids will love Aqualand here — it's a giant inflatable obstacle course on the lake.
Official site: http://waterbom-bali.com/